Sierra de Cazorla (Spain), August 27th, 2015 - Claudio Corti had warned: "The early days will be the most difficult for us, our Vuelta a Espana will start in Sierra de Cazorla." His Colombia-Coldeportes' guys did not let him down in the sixth stage, Cordoba-Sierra de Cazorla (200 km), delivering a courageous and aggressive performance on the day that featured the second uphill finish of the Vuelta. The winner's name did not change from the first one though: after surrendering the lead for only one second in yesterday's stage, Esteban Chaves (Orica-GreenEDGE) claimed it back in eloquent fashion, enjoying a solo win atop the Alto de Cazorla, a 4 km ascent with gradients peaking at 15%.

Five seconds behind came to the finish Daniel Martin (Cannondale-Garmin) and overnight leader Tom Dumoulin (Giant-Alpecin), but the 30-man selected group also featured Rodolfo Torres, 27th at 20 seconds. "Today's was another short and punchy climb, not so suited to my characteristics, and coming at the end of a hot and tough day. That's why it was so important for me to show that I could hold on with the strongest on this finish, and this gives me a morale boost thinking of tomorrow's stage," Rodolfo told just after the finishing, still catching his breath after such an intense effort.

Before Torres, another Escarabajo had been in the spotlight under the hot Andalusian sun: in fact, when five riders finally managed to defy the peloton's resistance after 50 km at a frantic pace, Miguel Angel Rubiano did not hesitate for a second before launching himself in a difficult and spectacular chase. Upfront, Stephen Cummings (MTN-Qhubeka), Niki Terpstra (Etixx-Quickstep), Cyril Gautier (Europcar), Peter Velits (BMC) and Kristijan Durasek (Lampre-Merida) were pushing at good pace, forcing Rubiano to touch his limit, event overcoming an accident.

"I was getting closer, just a few hundredths meters away, and in a long bend to left my bike simply slipped away, and I hit the ground," Miguel told, showing the abrasions on his left arm. "The race doctor treated my wounds, and then I got back to the chase. The guys upfront did not make my life easy: every time I was 10 seconds adrift, they would accelerate again. I came on top of it though: after 10km at full effort, I finally bridged back on them in the feed zone."

With Gautier sitting 3.10 behind in the overall classification, the escapees were not left lots of room by the peloton led by Giant-Alpecin, and their margin was eventually reduced to under a minute inside the final 20 km. In spite of the earlier efforts, it was Rubiano who tried to go alone with 15 km to go, but it was Cummings who moved on the counterattack. The Brit managed to stay clear until 2,5 km to go, when Esteban Chaves launched a strong attack, with nobody able to stay in his wake. The former Colombia-Coldeportes rider now leads the overall with 10 seconds on Dumoulin, while Rodolfo Torres is the best Escarabajo in 31st position, 3.43 adrift.

Even though the breakaway did not succeed, Rubiano's determination was still rewarded with the most combative rider award: "I am happy with this title, as I really gave everything I could in this action. But it's not over: tomorrow I will need to recover a bit, but I am already thinking of some stages where I could give it another go."

Tomorrow, Friday, the road keeps pointing up with the first high-mountain finish of the Vuelta a Espana: 191 km are waiting for the riders between Jodar and Alpujarra, with the 19 final kilometres to the Alto di Capileira (1st category) to test the ambitions of the top Vuelta contenders.
Escarabajos a plena energía en la Vuelta a España
Rubiano, en fuga desde lejos, premiado como el más combativo;
Torres, con los mejores en la llegada en subida
Sierra de Cazorla (España), 27 de agosto 2015 - Claudio Corti había dicho: "Los primeros días son los más difíciles para nosotros, pero nuestra Vuelta comenzará en la Sierra de Cazorla." Sus chicos del Team Colombia-Coldeportes no defraudaron en su cita con la sexta etapa, Córdoba-Sierra de Cazorla (200 km) desatando una actuación que fue todo coraje y agresividad en la etapa que presentaba la segunda llegada en alto de esta Vuelta. No cambia el ganador: privado de la camiseta de líder por un segundo en la etapa de ayer, Esteban Chaves (Orica-GreenEDGE) ha recuperado el símbolo de la supremacía de la manera más llamativa, imponiéndose en solitario en la cima del Alto de Cazorla, subida de tan sólo 4 kilometros, pero con pendientes de hasta el 15%.

A cinco segundos entró en meta Daniel Martin (Garmin-Cannondale) y ex maillot rojo Tom Dumoulin (Giant-Alpecin), mientras que del grupo de cabeza -de aproximadamente 30 unidades- también formaba parte Rodolfo Torres, clasificado el 27º a 20 segundos de Chaves. "La de hoy ha sido otra subida de potencia, no muy adecuada a mis características, y de nuevo al final de un día que resultó duro por el intenso calor. Precisamente por esta razón, por demostrar que puedo estar con los más fuerte en esta llegada, es muy importante para la moral, sobre todo teniendo en cuenta la llegada en subida de mañana", comentó Rodolfo a su llegada, todavía sin aliento después del intensísimo esfuerzo final.

Antes de Torres, sin embargo, fue otro Escarabajo quien brilló bajo el sol abrasador andaluz. Sucedió después de 50 kilómetros corridos un ritmo frenético. Entonces cinco ciclistas consiguieron superar la resistencia del pelotón, y poco después Miguel Ángel Rubiano no dudó un instante en embarcarse en una tan difícil como espectacular caza en solitario. Por delante rodaban Stephen Cummings (MTN-Qhubeka), Niki Terpstra (Etixx-Quickstep), Cyril Gautier (Europcar), Peter Velits (BMC) y Kristijan Durasek (Lampre-Farnese Vini) marchando a un gran ritmo, lo que obligó Rubiano a tirar fuerte hacia adelante, con la cabeza metida en el manillar, superando incluso un inesperado contratiempo.

"Me estaba acercando a ellos, estaba ya a unos cientos de metros, cuando en una larga curva a izquierdas mi bici resbaló, y acabé en el suelo", dice Miguel, mostrando las escoriaciones de su brazo izquierdo. "Desde el coche médico me limpiaron las heridas y luego reanudé mi carrera. Delante, sin embargo, no me lo pusieron fácil: cada vez que me ponía a 10 segundos aumentaban otra vez el ritmo. Pero finalmente obtuve el premio: después de 10 km a toda marcha pude cazar en la zona de avituallamiento".

Con Gautier colocado en la clasificación a sólo 3.10" del líder, los fugitivos no encontraron facilidades por parte del gran grupo liderado por los Giant-Alpecin, y su margen cayó por debajo del minuto a 20 km de meta. A pesar del esfuerzo inicial, Rubiano trató de romper la inercia de la escapada a 15 km del final, encontrándose con el contraataque de Cummings. El británico se mantuvo al mando hasta 2,5 km del final, cuando Esteban Chaves lanzó un fuerte ataque al que no pudo responder ninguno de sus rivales de la clasificación general. El colombiano, ex Colombia-Coldeportes, ahora lidera la general con 10 segundos de ventaja sobre Dumoulin, mientras que Rodolfo Torres es el mejor de los Escarabajos en el puesto 31º, a 3.43" de Chaves.

Incluso si fuga no llegó a buen puerto, la determinación de Rubiano le valió el el reconocimiento como ciclista más combativo del día: "Estoy contento de haber ganado este título, porque hoy realmente di el 100% en esta acción. Pero yo no pararé aquí, por supuesto: mañana voy a tener que recuperar un poco, pero tengo ya en mente algunas de las etapas en las que quiero volver a intentarlo desde lejos".

Mañana, viernes, la carretera sigue subiendo con la primera llegada en alta montaña de la Vuelta a España. La etapa que aguarda a los corredores va de Jódar a La Alpujarra (191 km), con la subida final de 19 km del Alto de Capileira (1ª categoría) que pondrá a prueba las ambiciones de los pretendientes a la Vuelta a España.
Escarabajos a tutta grinta alla Vuelta a Espana
Rubiano in fuga da lontano e premiato come più combattivo,
Torres con i migliori nell'arrivo in salita
Sierra de Cazorla (Spagna), 27 Agosto 2015 - Lo aveva detto Claudio Corti: "Le prime giornate saranno per noi le più difficili, ma la nostra Vuelta inizierà con Sierra de Cazorla." I suoi ragazzi del Team Colombia-Coldeportes non hanno deluso all'appuntamento con la sesta tappa, Cordoba-Sierra de Cazorla (200 km) sfoderando una prestazione tutta coraggio e aggressività nella frazione che presentava il secondo arrivo in salita di questa Vuelta. Non cambia il vincitore: privato della maglia di leader per un solo secondo nella tappa di ieri, Esteban Chaves (Orica-GreenEDGE) si è ripreso il simbolo del primato nella maniera più eclatante, imponendosi solitario in cima all'Alto de Cazorla, ascesa di 4 km ma con punte fino al 15%.

A 5 secondi sono transitati sul traguardo Daniel Martin (Cannondale-Garmin) e l'ex maglia rossa Tom Dumoulin (Giant-Alpecin), ma del gruppo dei migliori di circa 30 unità faceva parte anche Rodolfo Torres, giunto 27° a 20 secondi da Chaves. "Quella di oggi era un'altra salita di potenza, non adattissima alle mie caratteristiche, e ancora una volta al termine di una giornata resa dura dal grande caldo. Proprio per questo, dimostrare di poter stare con i più forti su questo traguardo è davvero importante per il morale, soprattutto pensando all'arrivo in salita di domani," ha commentato Rodolfo sull'arrivo, ancora con il fiatone dopo l'intensissimo sforzo finale.

Prima di Torres, tuttavia, era stato un altro Escarabajo a mettersi in luce sotto il cocente sole andaluso: quando infatti, dopo 50 km a ritmo forsennato, 5 corridori sono riusciti a vincere la resistenza del gruppo, Miguel Angel Rubiano non ha esitato un attimo a lanciarsi in un inseguimento solitario difficile quanto spettacolare. Davanti, Stephen Cummings (MTN-Qhubeka), Niki Terpstra (Etixx-Quickstep), Cyril Gautier (Europcar), Peter Velits (BMC) e Kristijan Durasek (Lampre-Merida) tiravano ad ottimo ritmo, costringendo Rubiano a spingere a testa bassa, superando anche un contrattempo.

"Mi stavo avvicinando, ero ormai a qualche centinaio di metri, quando in una lunga curva a sinistra la bici mi è scivolata, e sono finito a terra," racconta Miguel, mostrando le escoriazioni sul braccio sinistro. "L'auto medica mi ha ripulito le ferite, poi ho ripreso la mia rincorsa. Davanti però non mi hanno reso la vita semplice: ogni volta che arrivavo a 10 secondi alzavano di nuovo l'andatura. Alla fine però ho avuto la meglio: dopo 10 km a tutta, sono riuscito a rientrare in zona rifornimento."

Con Gautier collocato in classifica a soli 3.10 dal leader, i fuggitivi non hanno trovato enorme spazio da parte del gruppo condotto dalla Giant-Alpecin, e il loro margine si è ridotto sotto il minuto a 20 km dal termine. Nonostante lo sforzo iniziale, proprio Rubiano ha provato a rompere gli indugi a 15 km dalla conclusione, trovando il contrattacco di Cummings. Il britannico è rimasto al comando fino a 2,5 km dal termine, quando Esteban Chaves ha lanciato un attacco deciso a cui nessun rivale di classifica ha saputo rispondere. Il colombiano, ex Colombia-Coldeportes, conduce ora la generale con 10 secondi su Dumoulin, mentre Rodolfo Torres è il migliore degli Escarabajos in 31a piazza, a 3.43 da Chaves.

Anche se la fuga non è andata in porto, la grinta di Rubiano è valsa tuttavia il riconoscimento come corridore più combattivo di giornata: "Sono contento di essermi guadagnato questo titolo, anche perché oggi ho dato davvero il 100% in questa azione. Ma non mi fermo certo qui: domani dovrò recuperare un po', ma ho già in mente alcune tappe nelle quali voglio riprovarci da lontano."

Domani, venerdì, la strada continua a salire, con il primo arrivo in alta montagna della Vuelta a Espana: ad attendere i corridori sono 191 km da Jodar a La Alpujarra, con i 19 km finali dell'Alto di Capileira (1a categoria) che metteranno alla prova le ambizioni dei pretendenti alla Vuelta a Espana.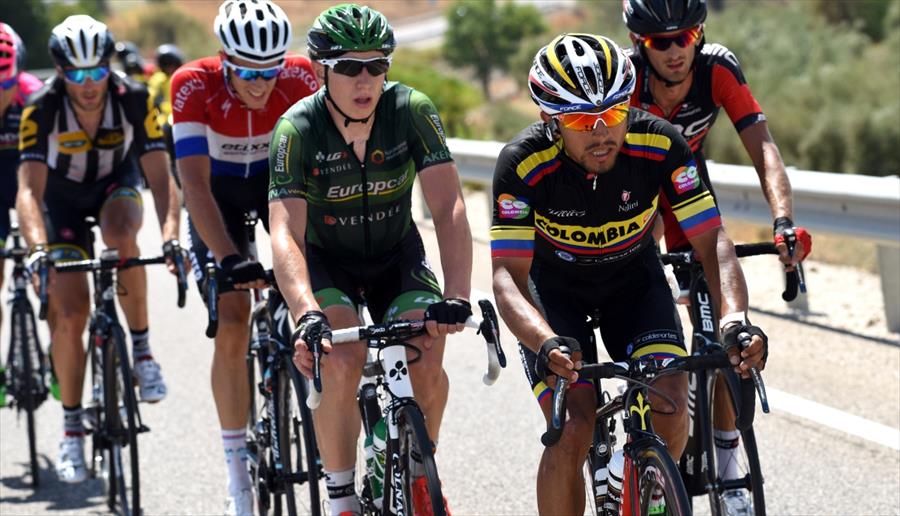 Miguel Angel Rubiano leads the breakaway group in Vuelta a Espana's stage 6 - Photo Credits: Bettini )