Alto Campoo (Spain), September 5th, 2015 - Carlos Julian Quintero never gives up without trying. In his four years in a Colombia-Coldeportes jersey, the 29-year-old from Villa Maria spent thousands of kilometers with the wind on his face, either working for a teammate or hunting for results in long-way breakaways. Nevertheless, he probably never got so close to a season and career-changing win as he did in the 14th stage of the Vuelta a Espana, 215 km from Vitoria to the uphill finish on Alto Campoo.

Battling for success in the much anticipated mountain stage, the longest of the 2015 Vuelta a Espana, were only five riders, those who managed to beat the peloton's resistance after 50 km run at a frantic pace, forcing their way out of the bunch on a short climb. Along with Quintero, Salvatore Puccio (Team Sky), Mikael Cherel (Ag2r-La Mondiale), Josè Joaquim Rojas (Movistar) and Alessandro De Marchi (BMC) were the absolute stars of the day, and it was the latter who eventually managed to distance his former companions in the final kilometers, coming out of the thick fog with raised arms. Puccio and Rojas finished behind him, while Quintero was left with a bittersweet fifth place, and the most combative rider award after 160 km on the attack.

"We raced a great stage today, but it feels really bad right now. I wanted to win, I can't hide," told Carlos afterwards, with watery eyes leaving little doubt about his feelings. "In the last kilometers I was watching Cherel, who was still looking good and had tried a couple of attacks, but with 2 km to go, in the toughest section of the climb, De Marchi dug deep and we could not follow."

"In these days – Quintero continued – there was not a day in which we did not try to show up on the attack. Things don't always go your way though, getting in the break is always hard, and finalizing it even more. Today it was a battle, but we were strong enough to earn the opportunity to go for a big stage win. That's why it hurts so bad not to be the one who raised his arms on the line. We won't give up until the end, though."

After reaching a maximum advantage just after 10 minutes, and starting the final 19 km climb to Alto Campoo with a nine-minute gap, the escapees managed their advantage and energies in the first part of the ascent, with quite regular and steady gradients, until Cherel made the first attack with 3 km to go. Behind them, Fabio Aru (Astana) tried to attack his GC rivals, but he was preceded to the line by Nairo Quintana (Movistar), who managed to recover 7 seconds on the Italian, still in the overall lead.

Colombia-Coldeportes' Rodolfo Torres placed 20th, 4.23 adrift, followed by Alex Cano, 23rd at 4.38, and Fabio Duarte, 25th at 4.42.

Tomorrow, the peloton will tackle the second leg of a terrible triptych: the fifteenth stage, Comillas-Sotres. Cabrales, presents 175 km and another uphill finish, with a 12 km climb to the Alto de Sotres.

Quintero, 160 km de coraje: "Lo di todo"
El quinto lugar y el premio al atleta más combativo no consuelan a Carlos: "Quería ganar, no me rindo"
Alto Campoo (España), 5 de setiembre 2015 - Lo prueba siempre Carlos Julián Quintero. En los cuatro años que lo han visto como protagonista con la camiseta del Team Colombia-Coldeportes, el ciclista de 29 años de Villa María ha pedaleado miles de kilómetros con la cara al viento, tirando de un compañero o yendo a la caza de resultados desde lejos. Sin embargo, nunca antes de la 14ª etapa de la Vuelta a España, 215 km desde Vitoria a la llegada en subida de Alto Campoo, Carlos estuvo rozando de tan cerca uno de esos éxitos que cambian una temporada, si no una carrera.

A jugarse el éxito en esta esperadísima etapa de montaña, la más larga de esta Vuelta a España, contendieron cinco ciclistas, los cinco atletas que después de 50 kilómetros corridos a un ritmo vertiginoso lograron - por fuerza - romper la resistencia del gran grupo en un repechón del recorrido. Además de Quintero, Salvatore Puccio (Team Sky), Mikael Cherel (Ag2r-La Mondiale), José Joaquín Rojas (Movistar) y Alessandro De Marchi (BMC) fueron los protagonistas absolutos del día, y al final fue este último quien distanció a sus compañeros de fuga en los últimos kilómetros, surgiendo con sus brazos hacia arriba de la espesa niebla que descendió sobre la línea de meta. Detrás de él llegaron Puccio y Rojas, mientras que Quintero llegó en un quinto puesto de sabor agridulce, llevándose también el premio del atleta más combativo al final de 160 km de escapada.

"Hoy hemos disputado una gran etapa, pero en realidad este final me deja un sabor amargo en la boca. Quería ganar, no lo escondo", dijo Carlos tras la etapa, con unos ojos brillantes que no dejaban lugar a dudas acerca de su estado de ánimo. "En el último kilómetro me dediqué a vigilar a Cherel, pues todavía parecía bastante brillante y había lanzado un par de demarrajes, pero a sólo 2 km del final, en la parte más dura de la subida, De Marchi atacó a fondo y nadie fue capaz de seguirlo".

"En estos días - continúa Quintero - no ha habido ninguna etapa en la que no hayamos probado ir al ataque, ser protagonistas. Por desgracia las cosas no siempre salen bien. Entrar en una fuga siempre es difícil y llevarla a buen puerto lo es aún más. Hoy fue una auténtica batalla, pero lo hicimos bien y hemos peleado esta oportunidad al máximo. Por esta razón duele no ser capaz de terminar la etapa alzando los brazos. Pero no nos daremos por vencidos hasta el final".

Después de alcanzar una ventaja máxima de casi diez minutos, y comenzar con nueve de margen los últimos 19 km que llevaban a Alto Campoo, el grupito de fugados supo gestionar su ventaja y sus fuerzas en la primera parte de la subida, allá donde la pendiente era más regular, antes de que Cherel abriese las hostilidades a 3 km del final. Detrás de ellos, el líder Fabio Aru (Astana) trató de atacar a sus rivales de la general, pero el primero de los favoritos en la línea de meta fue Nairo Quintana (Movistar), que recuperó siete segundos sobre el italiano, que se mantiene como líder de la prueba.

Rodolfo Torres, del Team Colombia-Coldeportes, terminó vigésimo a 4.23", seguido de Alex Cano, 23° a 4.38", y Fabio Duarte, 25º a 4.42".

Mañana espera al pelotón la segunda prueba de un tríptico terrible: la etapa decimoquinta, Comillas-Sotres Cabrales, con 175 km y otro final cuesta arriba, con doce kilómetros de subida al Alto de Sotres (con pendiente media del 7,9% y rampas máximas al 17%).


Quintero, 160 km di coraggio: "Ce l'ho messa tutta"
Il quinto posto e il premio di atleta più combattivo non consolano Carlos: "Volevo vincere, non mi arrenderò"
Alto Campoo (Spagna), 5 Settembre 2015 - Ci prova sempre, Carlos Julian Quintero. Nei quattro anni che lo hanno visto protagonista con la maglia del Team Colombia-Coldeportes, il 29enne di Villa Maria ha passato migliaia di chilometri al vento, tirando per un compagno o andando a caccia del risultato da lontano. Tuttavia, mai come nella 14a tappa della Vuelta a Espana, 215 km da Vitoria all'arrivo in salita di Alto Campoo, Carlos è arrivato a sfiorare uno di quei successi che ti cambiano una stagione, se non una carriera.

A giocarsi il successo nell'attesissima tappa di montagna, la più lunga di questa Vuelta a Espana, sono stati cinque corridori, i cinque atleti che dopo 50 km a ritmo indiavolato sono riusciti – di forza – a rompere la resistenza del gruppo su uno strappo. Oltre a Quintero, Salvatore Puccio (Team Sky), Mikael Cherel (Ag2r-La Mondiale), Josè Joaquim Rojas (Movistar) e Alessandro De Marchi (BMC) sono stati gli assoluti protagonisti di giornata, e alla fine è stato proprio quest'ultimo a distanziare i compagni di fuga nei chilometri conclusivi, sbucando a braccia alzate dalla fitta nebbia scesa sul traguardo. Dietro a lui Puccio e Rojas, mentre per Quintero arriva un quinto posto dal gusto agrodolce, e il premio di atleta più combattivo al termine di 160 km all'arrembaggio.

"Oggi abbiamo disputato una grande tappa, ma davvero questo finale mi lascia un gusto amaro in bocca. Volevo vincere, non mi nascondo," ha commentato Carlos nel dopo tappa, con occhi lucidi che non lasciavano dubbi sul suo stato d'animo. "Negli ultimi chilometri ho curato Cherel, che mi sembrava ancora piuttosto brillante e aveva tentato un paio di scatti, ma a 2 km dal termine, nel tratto più duro della salita, De Marchi ha attaccato a fondo e nessuno è riuscito a seguirlo."

"In questi giorni – prosegue Quintero – non c'è stata tappa nella quale non abbiamo provato ad andare all'attacco, a renderci protagonisti. Purtroppo non sempre va bene, entrare in fuga è sempre difficile, e portarla a compimento lo è ancora di più. Oggi è stata una battaglia, ma siamo stati bravi e ci siamo guadagnati quest'opportunità fino in fondo. Proprio per questo, fa male non essere riuscito a terminare la fuga a braccia alzate. Ma non ci daremo per vinti fino alla fine."

Dopo aver toccato un massimo vantaggio di quasi dieci minuti, ed aver iniziato con nove primi di margine i 19 km finali verso Alto Campoo, i battistrada hanno gestito vantaggio e forze nella prima parte della salita, con pendenze regolari, prima che Cherel aprisse le ostilità a 3 km dal termine. Alle loro spalle, il leader Fabio Aru (Astana) provava ad attaccare i rivali di classifica, ma il primo dei favoriti sul traguardo è stato Nairo Quintana (Movistar), che ha recuperato sette secondi sull'italiano, che si conferma in vetta alla graduatoria.

Rodolfo Torres del Team Colombia-Coldeportes si è piazzato ventesimo a 4.23, seguito da Alex Cano, 23° a 4.38, e Fabio Duarte, 25° a 4.42.

Domani ad attendere il gruppo c'è la seconda prova di un trittico terribile: la quindicesima tappa, Comillas-Sotres. Cabrales, prevede 175 km e un altro arrivo in salita, con i dodici chilometri a naso in su sull'Alto de Sotres.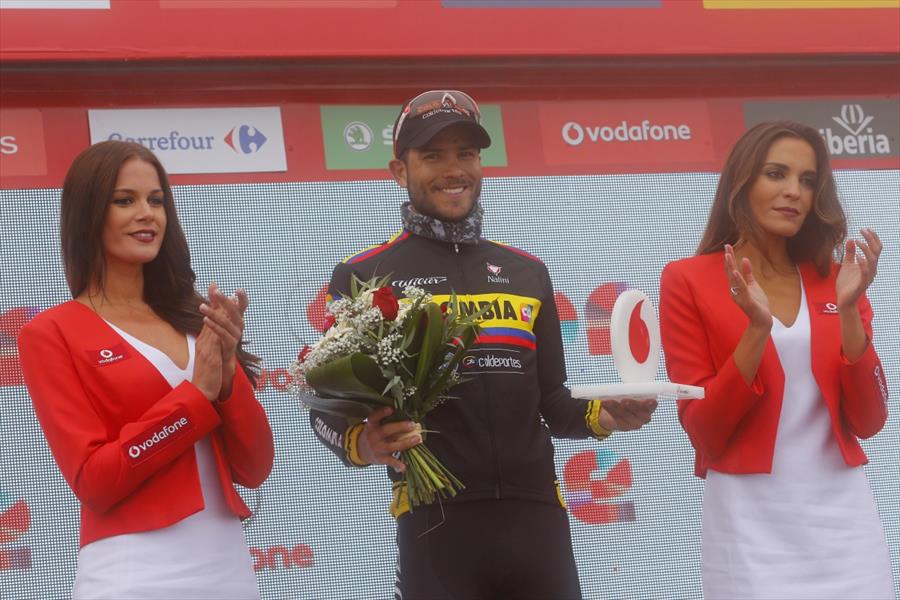 Carlos Quintero was awarded as the most combative rider after Vuelta a Espana's stage 14 - Photo Credits: Bettini )